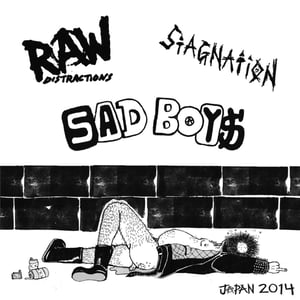 $

6.00
SAD BOYS/RAW DISTRACTIONS/STAGNATION - land of the crying sun 3-way comp 7"ep!
Drunken raw pogo attack punk Sad Boys from hc punk frontline NYC. They put this ep for their japan tour with Raw Distractions/Stagnation in this May. catchy, melodius, tight & raw sounds with charming singer's vocal. according to Pogo77 rec primitive and energetic 5songs.
the other parts Stagnation is evolving noise-core by their original filter, it's sound like remind us of avant-garde Crass rec music. Raw Distractions is more fast, simple and straight UK82' style compare with their current 1st ep.